The Quartzophone Instruments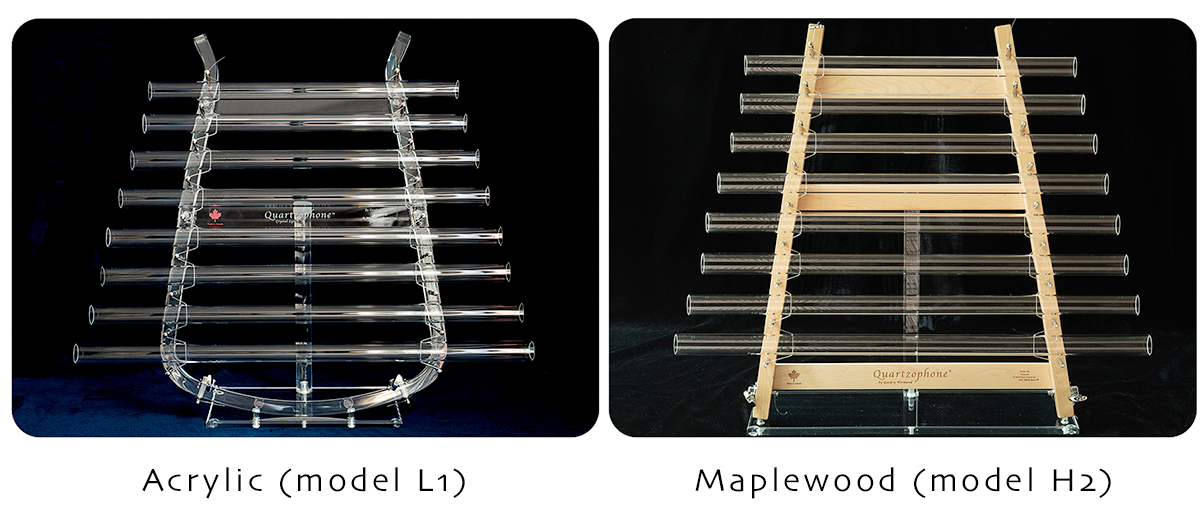 The crystal harp and crystal lyre were created by Gaudry Normand of Mine Cristal in 2011. There are two models, the acrylic (model L1) and maple wood (model H2). These crystalline instruments are lighter, more beautiful, easier to hold and to play with an enhanced, pure cristalline sound. Now more than ever, you can create a high range of harmonics, filling your space with beautiful overtones.
The Quartzophone acrylic crystal lyre and the wood crystal harp create a tranquil and healing environment. Those who utilize sound and vibration use the Quartzophone crystal lyre and crystal harp on their own or as a compliment crystal singing bowls, tuning forks, gongs and other sound and vibration instruments. They are played for personal relaxation, private healing sessions, group sound and vibration sessions and concerts.
Both instruments have eight quartz crystal tubes tuned to either 432hz or 442hz. They are tuned to the chakra scale, Low C (root) to High C (crown). The crystal lyre and crystal harp ship free within the continental USA. Shipping to Alaska, Hawaii and Puerto Rico is only $100. See below for shipping outside of the United States.
Quartzophone Crystal Harp, Crystal Lyre & Duo
What Others Say About the Quartophone Harp & Lyre
"For a month, I went back and forth to determine if I should purchase. Well, My Quartzophone is so beautiful sounding I don't want to stop playing. It's pristine sound resonates throughout my body and others in the room. This harp is perfect to play with crystal bowls and chimes. The 432hz sound balances and complements each crystal bowl and enhances the sounds perfectly. I will enjoy as well as anyone receiving a healing session. Great purchase!!" ~ Gwynie, Universe Sings
"The Quartzophone L1 is the most beautiful instrument in my collection, without a doubt. As beautiful and pure as its appearance, the sounds are truly magical and ethereal The depth, purity and clarity of tone are unmatched and the vibrations are both joyful and serene. This is an essential tool for space clearing and therapeutic work of all genres. Most importantly, it is an invaluable self-healing tool-it induces a meditative state within seconds. It is and remains one of my most treasured possessions." ~ Hilory
Made in Canada and Why this Really Matters
Once in awhile a tube may break. Sometimes the cat knocks it over, very often though it is the husband. The Quartzophone Lyre and Harp are designed so that you can easily replace a tube in about 15 minutes. Replacement tubes come directly from Mine Cristal in Quebec usually in 7-10 days. This is important because knockoffs from China and now from Europe require you to send their instrument back for repairs at your expense or, in many cases cannot be repaired at all. Replacing a Quartzophone tube may seem daunting but it is very easy. We encourage you to contact us if you would like us to step you through the process via FaceTime or Zoom.
Worldwide Shipping
To get an estimate on import and customs fees, go to the product you are interested in. Import fees should automatically be displayed in the lower right of your screen.
You can also click on your country flag in the lower right to see a customs estimate. To change countries, click on the country name.
To get a shipping quote, add a product to your cart, view your cart and click on Shipping Quote.
The lyre is shipped in a double strength box via UPS, fully insured.
Patented Design
The extraordinary sound of Quartzophone instruments is the result of the patented system. Gaudry Normand holds multiple patents on the unique mechanisms and designs. The patents are composed of several unique mechanisms, including two continuous strings with an angular, zigzag pattern and slender metal pins specifically designed to support the strings and the tubes. Additionally, there are tension-adjusting keys or screws. This system allows the tubes to oscillate freely even while they remain exactly centred between the pins, creating celestial, long-lasting, pure tones with rich vibrato!
What is Included
padded carrier
display stand
two specially designed mallets
The Quartzophone instruments are easy to play and require no musical experience. Within a few minutes of receiving your lyre you will be creating beautiful harmonics.