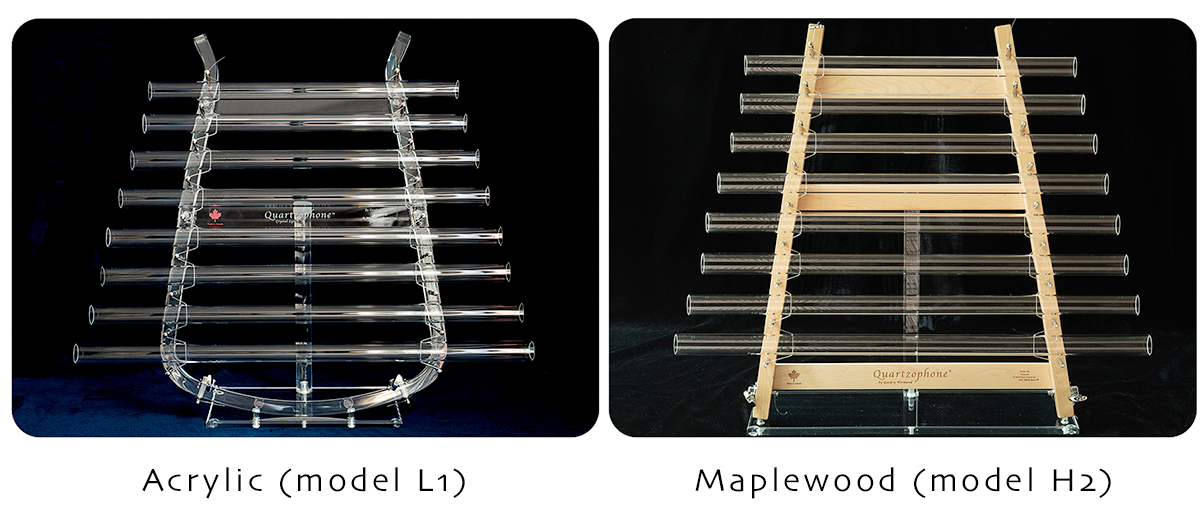 The Quartzophone Instruments
The crystal harp and crystal lyre were created by Gaudry Normand of Mine Cristal in 2011. The Quartzophone L1 and H2 are the new and improved models. These crystalline instruments are lighter, more beautiful, easier to hold and to play, with an enhanced, pure cristalline sound. Now more than ever, you can create a high range of harmonics, filling your space with beautiful overtones.
The Quartzophone L1 crystal lyre and the H2 crystal harp create a tranquil and healing environment. Those who utilize sound and vibration use the Quartzophone crystal lyre and crystal harp on their own or as a compliment crystal singing bowls, tuning forks, gongs and tools used in native practices. They are played for personal relaxation, private healing sessions, group sound and vibration sessions and concerts.
We carry two models of Quartzophone crystal harps. The L1 and H2 each have eight quartz crystal tubes tuned to A432 Hz. The L1 and H2 ship free within the continental USA. Shipping of the L1 and H2 to Alaska, Hawaii and Puerto Rico is only $100. Shipping outside the USA is also available.
What others say about the Quartzophone Crystal Harp and Crystal Lyre
"For a month, I went back and forth to determine if I should purchase. Well, My Quartzophone is so beautiful sounding I don't want to stop playing. It's pristine sound resonates throughout my body and others in the room. This harp is perfect to play with crystal bowls and chimes. The 432hz sound balances and complements each crystal bowl and enhances the sounds perfectly. I will enjoy as well as anyone receiving a healing session. Great purchase!!" ~ Gwynie, Universe Sings
"The Quartzophone L1 is the most beautiful instrument in my collection, without a doubt. As beautiful and pure as its appearance, the sounds are truly magical and ethereal The depth, purity and clarity of tone are unmatched and the vibrations are both joyful and serene. This is an essential tool for space clearing and therapeutic work of all genres. Most importantly, it is an invaluable self-healing tool-it induces a meditative state within seconds. It is and remains one of my most treasured possessions." ~ Hilory
---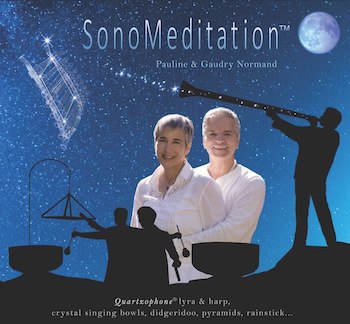 Pauline and Gaudry Normand play unique instruments such as Quartzophone® lyra, crystal singing bowls, crystal didgeridoo, etc. After giving more than 1,200 concerts, the Normands wanted to share their profound meditative music with everyone. Here is music empowered by pure intention, lively silence and love. There are omnidirectional sounds and pure tones, along with binaural and multinaural beats. The Normands also make use of the traditional elements of perfect tuning, harmony, melody, rhythm, structure and improvisation. In the brochure that accompanies the CD you will find instructions for how to experience relaxation, happiness and lucidity using the SonoMeditation™ technique, a simple and easy meditation to practice while listening to the album. Listen...
Featured Products